Fuselage Dance Film Festival: Winter Program
This event took place on Jan 10, 2020
$13 General Admission
$10 Student/Senior
$7 Member
A specially curated collection of short films from Seattle to Seoul centering dance and movement, presented in partnership with Fuselage Dance Film Festival!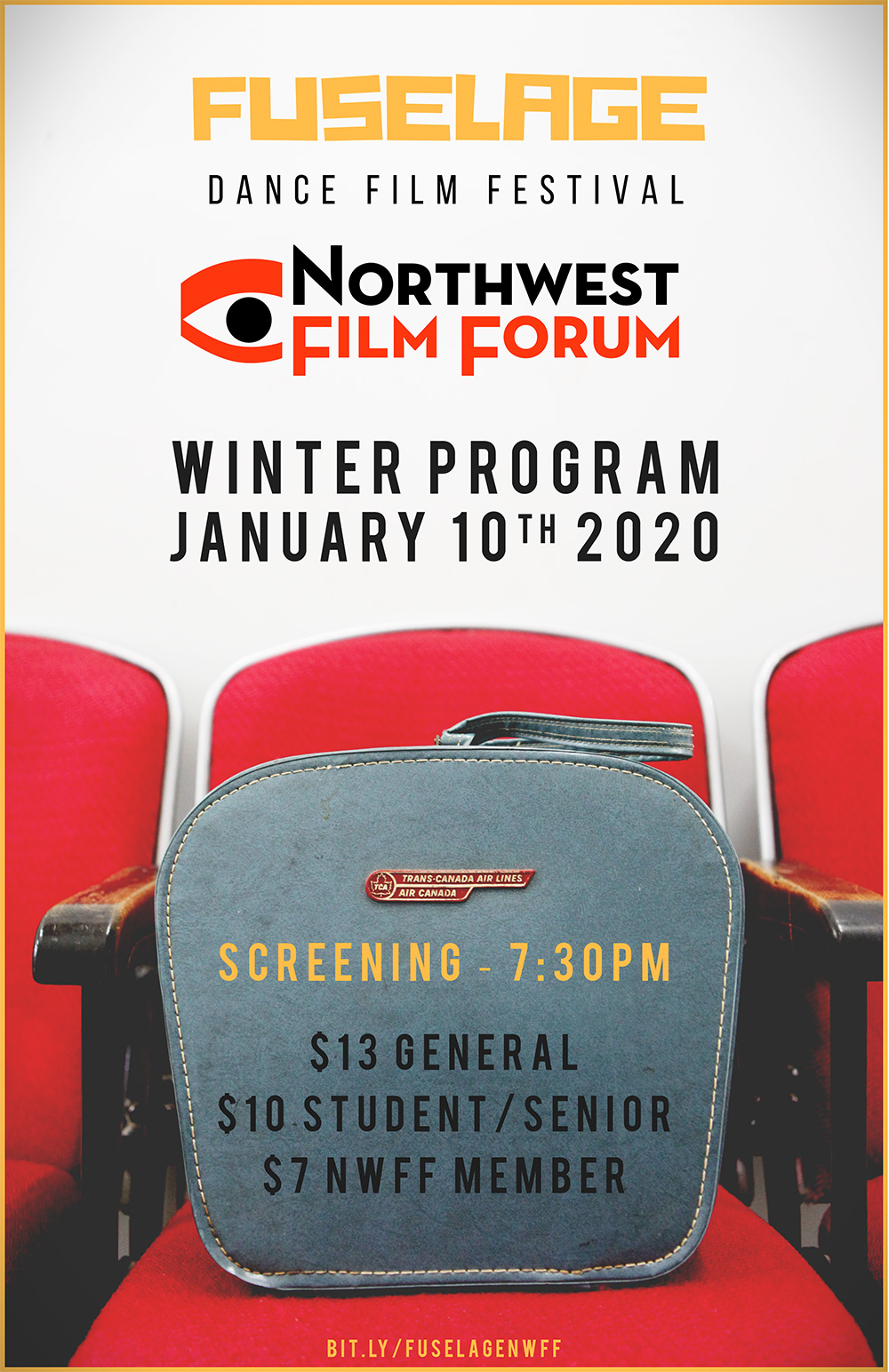 ---
MAKYŌ (THERE IS A GHOST INSIDE YUUU)
(Brian Imakura, Olympia, WA, 5 min)
Makyō ("ghost cave") is the self-delusional nest that results from clinging to one's trauma. This film is a depiction of one woman's escape from that nest.
Sharp Teeth
(Renee Boehlke, Seattle, WA, 5 min)
I walk on my street and it is a wilderness.
In the wilderness, I am the only monster here.
Welcome Home
(Christin Call, Seattle, WA, 13 min)
A woman must wrangle with her attachment to the past in order to move on and move in.
Anasa
(Maja Zimmerlin & Thomas Delord, Belgium, 4 min)
The right to breath and to feel the fall.
Earthquake.
Inside or outside.
A connection through matter and its dissolution.
The earth, the stone, the sand, the sea.
Bodies. Connected.
Dry flowers pushing out from the sand. Dissolving.
Filled bodies, unstoppable.
Earth bodies, floating inside or outside.
The right to exist, to simply be.
Pung Jeong.Gak(風精.刻) From Nakwon to Sewoon
(Joowon Song, South Korea, 11 min)
We reminisce the memories we have lost through the movement, which is an interpretation of architectural structure and the history of Sewoon Plaza and Nakwon Musical Instrument Arcade building. These buildings, as the first residential complex in Seoul, still spur the breath of old memories in a city where tall apartment complexes and big buildings invade into people's relationship and distance.
Three friends, Young-Sun, Sung-Hyeon, and Hyo-Sun, loom around each space of Sewoon Plaza and Nakwon Musical Instrument Arcade building. and connect the memories of olden days and today to find values we have lost.
This is the 6th project of a Pung Jeong. Gak(風精.刻) series, a site-specific dance film project to revive the city space by the director/choreographer Joowon Song. Pung (風) means a wind that directs us to a certain coordinate of the geography and time. Jeong(精) means a love and soul that hide within the wind, Gak(刻) means a mark those winds leave in the city corner to connect people and influence them.
Endless
(Bella Gonzales, Los Angeles, CA, 3 min)
A film about a young woman dealing with a very personal sadness. It is the sort of emotion that is rarely expressed, but felt almost universally. The film explores the sense of psychological and spiritual crisis that lays dormant, always ready, but never actually taking hold of us.
Oh Boy!
(Hadi Moussally, France, 10 min)
Based on the dance-piece "Oh Boy!" by Antonin Rioche
"Loneliness. For some of you, the word may not be very familiar, but the feeling, though, you know it quite well."
as·phyx·i·a·tion
(Nadav Heyman, Los Angeles, CA, 6 min)
As part of the S.A.C. Artist Residency and in collaboration with Studio 1750 (South Korea), filmmaker Nadav Heyman explores the claustrophobic limits of his physicality, set in rural Thailand.
I Am All Things
(Rob Monaghan, Ireland, 9 min)
An examination of self-discovery and of evolving emotional intelligence, a meditation on environment and how we interact with it.
Filmed at an abandoned marble mine in Evora, Portugal.
---

Fuselage Dance Film Festival
The next Fuselage Dance Film Festival will take place in September 2020!
WHO: Open to filmmakers of all ages, worldwide. Filmmakers residing in Washington State, Oregon, Idaho, or British Columbia will be given priority.
WHAT: Short films (15min & under) with a focus on dance. Applicable categories include music videos, experimental/art, comedic, narrative, documentary, or any other films that are centered around dance & movement.
WHY: Stella Kutz and Will Lemke have been friends since the late 90's during their days at Franklin High. Stella is an accomplished dancer & choreographer, and built Yaw Theater as a studio and performance space focused on developing community and collaboration among artists. Will has been making films since his childhood, and opened Propadata Films in 2005 with a focus on exploring eye-opening stories. The two are excited to provide an event for local & international filmmakers and dancers to screen their works, and for Seattle theatergoers to see the best films in the world of screendance!
---