Queer Cinema from Germany – Rafiki [Online]
View this title
Aug. 14–16, 2020
Northwest Film Forum is SCREENING ONLINE! NWFF's physical space is temporarily closed in light of public health concerns around COVID-19, but community, dialogue, and education through media arts WILL persist.
• • HOW TO WATCH • •
Purchase your ticket through Brown Paper Tickets.
Your email receipt from Brown Paper Tickets will contain a link and password for viewing, under "Ticket Details". (Don't see it? Check your spam filter.)
If you encounter any issues logging in, please contact louie@nwfilmforum.org for a quick follow-up. (But please, check your confirmation email!)
** This film is only available to viewers in the US and Canada. **
Wanuri Kahiu
Kenya, South Africa, Germany, Netherlands, France, Norway, Lebanon & UK
2018
1h 23m
About
Bursting with the colorful street style and music of Nairobi's vibrant youth culture, Rafiki is a tender love story between two young women in love in a country that still criminalizes homosexuality. Kena and Ziki have long been told that "good Kenyan girls become good Kenyan wives" – but they yearn for something more. Despite the political rivalry between their families, the girls encourage each other to pursue their dreams in a conservative society. When love blossoms between them, Kena and Ziki must choose between happiness and safety.
Initially banned in Kenya for its positive portrayal of queer romance, Rafiki won a landmark supreme court case chipping away at Kenyan anti-LGBT legislation. Based on the award-winning short story "Jambula Tree" (2008) by the Ugandan author Monica Arac de Nyeko, Rafiki tells of an African youth who resolutely rebel against homophobia, religious dogmas and the austerity of their parents. It is a stirring film that glows with a love of freedom and joie de vivre.
Images courtesy of Film Movement.
"A burst of unfiltered teenage energy. … [Kahiu] has a wonderful eye for detail and lyricism." – Emily Yoshida, Vulture
"This director knows how to capture on film the wonderful feeling of falling in love." – Charles Mudede, The Stranger
"While Western countries are still struggling to produce many queer stories that don't end in misery and death, or that focus solely on the white male experience, the Kenyan-focused, neon-pink romance of Rafiki is exactly what the world needs." – Katy Moon, One Room with a View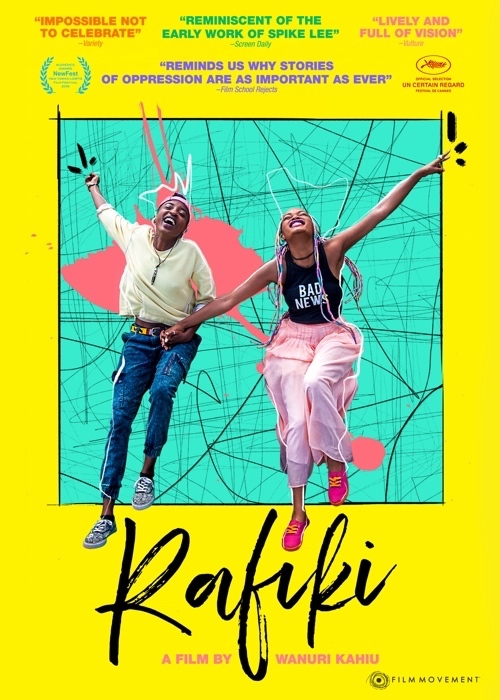 ---
About the filmmaker:
Wanuri Kahiu was born in Nairobi and belongs to a new generation of African storytellers. She is co-founder of the media network AFROBUBBLEGUM, which promotes and produces courageous, entertaining and progressive African art. In 2008, Kahiu completed her debut film, From a Whisper, based on the true events of the bombings of the US embassies in Nairobi and Dar es Salaam in 1998. The film was nominated in twelve categories at the 2009 Africa Movie Academy Awards and received four awards, including Best Film and Best Director. Shortly afterwards, Kahiu made a documentary about the life of Nobel Peace Prize winner Wangari Maathai, For Our Land (2009). Her short film Pumzi, a science fiction story, was funded by Focus Features, the Goethe-Institut and the Changamoto Foundation in Kenya and premiered in Sundance in 2010. It was awarded at the Cannes Independent Film Festival, the Venice Film Festival, and the Carthage Film Festival.
Kahiu was named a TED Fellow in 2017 and a World Economic Forum Cultural Leader in 2018. She is the author of the children's book The Wooden Camel (2017).
She is currently working on her new documentary GER about a young man from Sudan living in New York who returns to his home country and family after 18 years. Kahiu is also preparing a new feature, Rusties, which is set in Nairobi in the near future.
---