Sweetgrass [Online]
Screen this title
Oct. 23 – Nov. 6, 2020
Ilisa Barbash & Lucien Castaing-Taylor
UK, France & US
2009
1h 41m
About
** New digital restoration! **
An unsentimental elegy to the American West, Sweetgrass follows the last modern-day cowboys to lead their flocks of sheep up into Montana's breathtaking and often dangerous Absaroka-Beartooth mountains for summer pasture. This astonishingly beautiful yet unsparing film reveals a world in which nature and culture, animals and humans, vulnerability and violence are all intimately meshed.
"A tenaciously observed and a quietly absorbing ethnography about a pair of shepherds leading some 3,000 sheep on a 150-mile journey up into Montana's Absaroka-Beartooth Mountains for summer pasture." – Sukhdev Sandhu, Daily Telegraph
"The images, including sheep on the move up near vertical hills, are remarkable, the landscape spectacular, the unsentimental account of back-breaking, backside-aching work impressive." – Philip French, Guardian
"This beautiful and hypnotic documentary shows the agony and the ecstasy of herding sheep up into Montana's Beartooth mountains for the summer pasture." – Peter Bradshaw, Guardian
"Strange to relate that one of the year's most striking cinematic experiences so far is a documentary starring 3,000 sheep." – Kieron Corless, Sight and Sound
"It would be foolish not to experience this film." – Dominic Radcliffe, Little White Lies
Description courtesy of Grasshopper Film.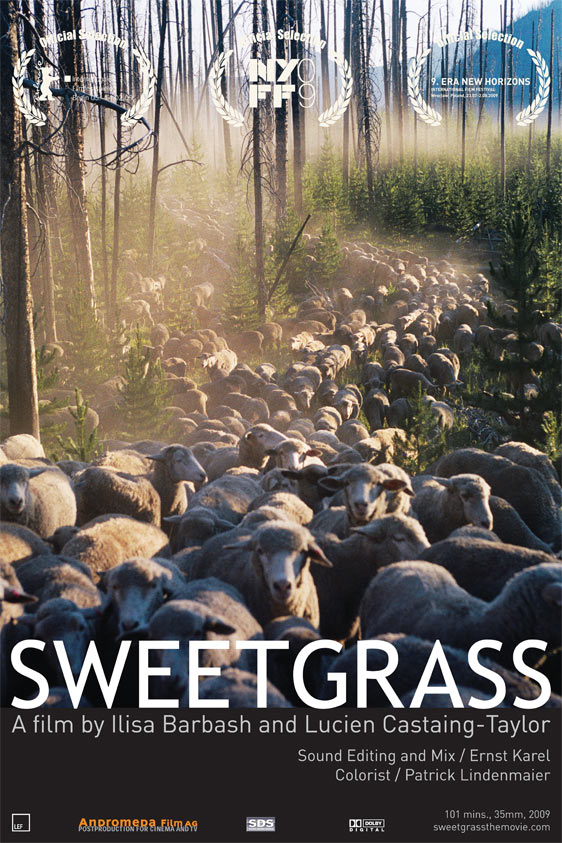 ---