Lights Dance Fest 2023 – PRISM [Hybrid]
Thu Nov 09: 7.00pm PDT (ticketed, at NWFF, with opening night performance)
Sat Nov 11: 7.00pm PDT (free, at Othello-UW Commons)
$15 General
$10 Student/Child/Senior
$5 NWFF Member
Free IF you are attending Nov. 11 at Othello-UW Commons
VIRTUAL PASSES (11/9–11/17):
$20 General
$15 Student/Child/Senior
$10 NWFF Member
IN-PERSON PASSES (11/9–11/11):
$30 General
$20 Student/Child/Senior
$15 NWFF Member
About
(~36 min TRT)
As a prism disperses light into various colors, dance inspires diverse forms of expressions and stories. Celebrating the multifold expressions of dance, these specially curated films from Canada and the U.S. exhibit how dance can rediscover, awaken, and transform both traditional and contemporary forms of visual art, including painting, VFX, and collage. Imaginative and daring, this selection of films not only reflects the creative potentiality in dance, but also illuminates its ever ubiquitous presence in our everyday.
Header photo credit: Au-delà du hors-champ, dir. Axel Robin
Undertones
(Kat Castro, Canada, 2022, 5 min)
Humans are like existential onions. There are many layers to uncover, hence the title name, Undertones. It is a single-channel experimental movement film that focuses on the relationship between the underlying layers of architecture, music & sound, and the movement artists. The film plays with themes of curiosity, tension, connection, and release. Through movement, it explores how personal experiences and emotions are not only affected by other individuals, but also by the elements in the environment that surrounds us. The relationship is cyclical in nature and as the cycle repeats, we gain more awareness within and outside.
See Through View
(Rosie Trump, US, 2023, 4 min)
Like looking in a viewfinder, hand-crafted windows reveal dance vignettes as See Through View presents a frame within a frame. See Through View embraces the pairing of analog/digital, 2D/3D, and tactile/embodied.
CANVAS
(Sophia Stoller, US, 2023, 7 min)
A large blank canvas becomes the source of colorful imagination in a young girl's mind.
Marie. Eduardo. Sophie
(Thomas Corriveau, Canada, 2022, 3 min) ** World premiered at ANIMAPHIX in Bagheria, Italy (July 29, 2022) in the Retrospettiva Thomas Corriveau **
A mesmerizing contemplation of moving bodies and painting, with three magnificent performers of contemporary dance from Montréal, Marie Mougeolle, Eduardo Ruiz Vergara and Sophie Corriveau.
The Battle for Swan Lake
(Joan Carol Gratz, US, 2023, 3 min)
Cats, a dog, and a fish head perform the classic ballet, Swan Lake.
shake, shimmy, & the spins
(Aislinn Travis, US, 2022, 4 min)
shake, shimmy, & the spins explores the differences between perception and reality, glamour and truth, and the juxtaposition of actions and consequences. shake, shimmy, & the spins is a student screendance by Aislinn Travis, May 2023 graduate of the University of North Carolina at Greensboro.
Beyond the Off-Screen (Au-delà du hors-champ)
(Axel Robin, Canada, 2023, 10 min, in French with no subtitles)
A film crew is preparing to shoot a scene in a colorful studio. As the filming goes, their gestures gradually slip into dancing, revealing the beauty of the choreography of film sets.
---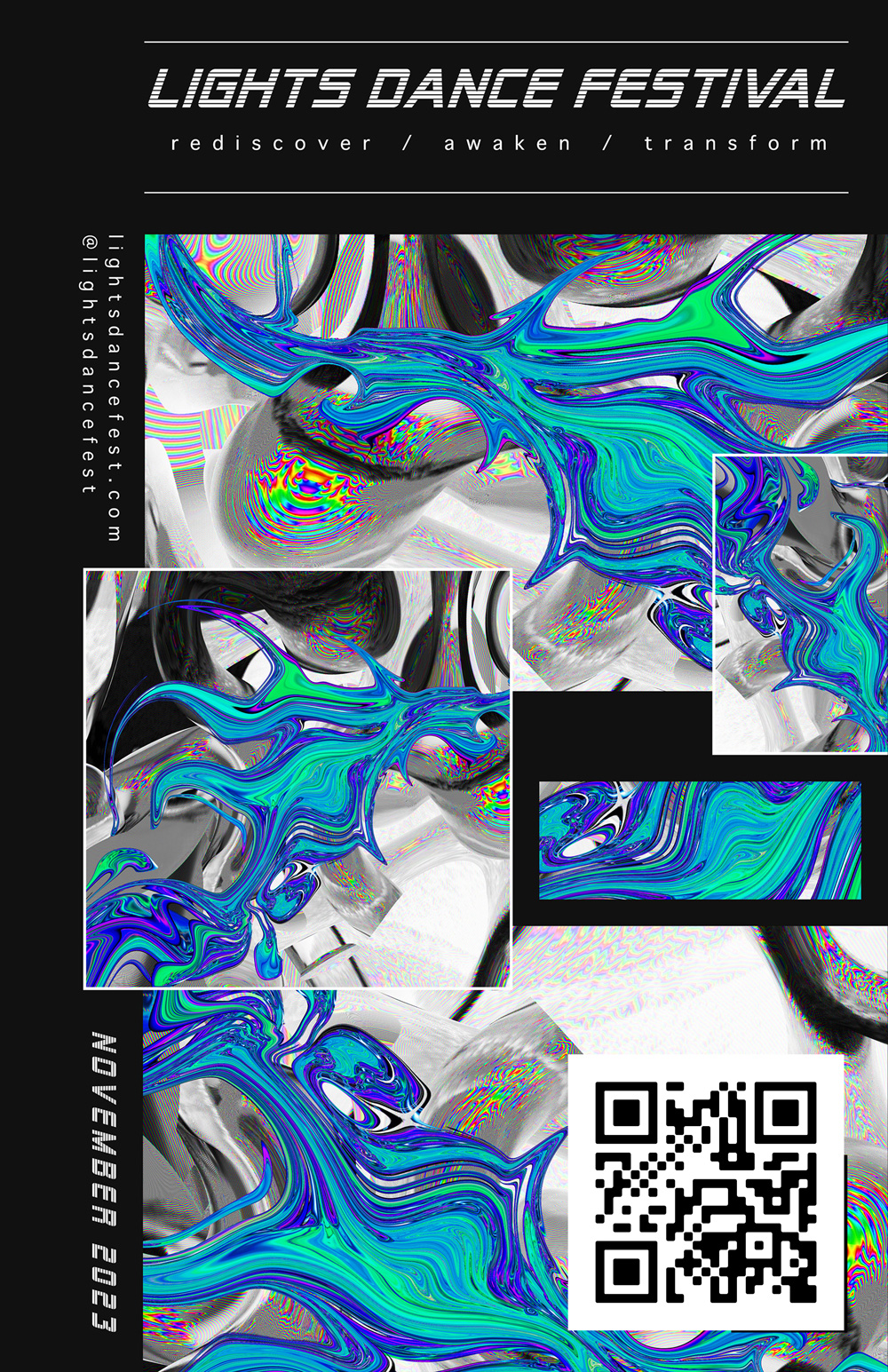 This year's festival is inspired by the arduous yet enriching journeys of rediscovery, awakening, and transformation that not only reignite our sense of purpose, but also breathe new life into our relationships and creative praxis.
Please join us for the three programs that our team carefully curated: "PRISM," "Turtles All the Way Down," and "Resurgence." Nov. 9 & 10, in-person screenings will be held at NWFF – virtual screenings will also be available from Nov. 9–17.
⚠️ Please note: NWFF patrons will be required to wear masks that cover both nose and mouth while in the building. We are not currently checking vaccination cards.
---