Local Sightings 2020 – From Here [Online]
View this program on-demand
Sep. 25–27, 2020

Plus Post-Screening Q&A
• • HOW TO WATCH VIRTUALLY • •
Purchase your pay-what-you-can ticket through Brown Paper Tickets.
Your email receipt will contain a link and password for viewing, under "Ticket Details". (Don't see it? Check your spam filter.)
If you encounter any issues logging in, please contact louie@nwfilmforum.org. (But please, check your confirmation email!)
Christina Antonakos-Wallace
US
2019
1h 29m
About
From Here is a hopeful story of artists and activists based in Berlin and New York whose lives hang in the balance of immigration and integration debates. Our protagonists move from their 20s into their 30s as they fight for citizenship, start families and find room for creative expression. This sensitive, nuanced documentary captures their journeys to define what it means to "belong" in societies that are increasingly hostile to their existence.
Filmed over a decade in two of the world's largest immigration countries – the U.S. and Germany – these individuals' stories echo those of millions of young people from immigrant families coming of age during this era of rising nationalism. From Here showcases not only their struggles, but their enormous power.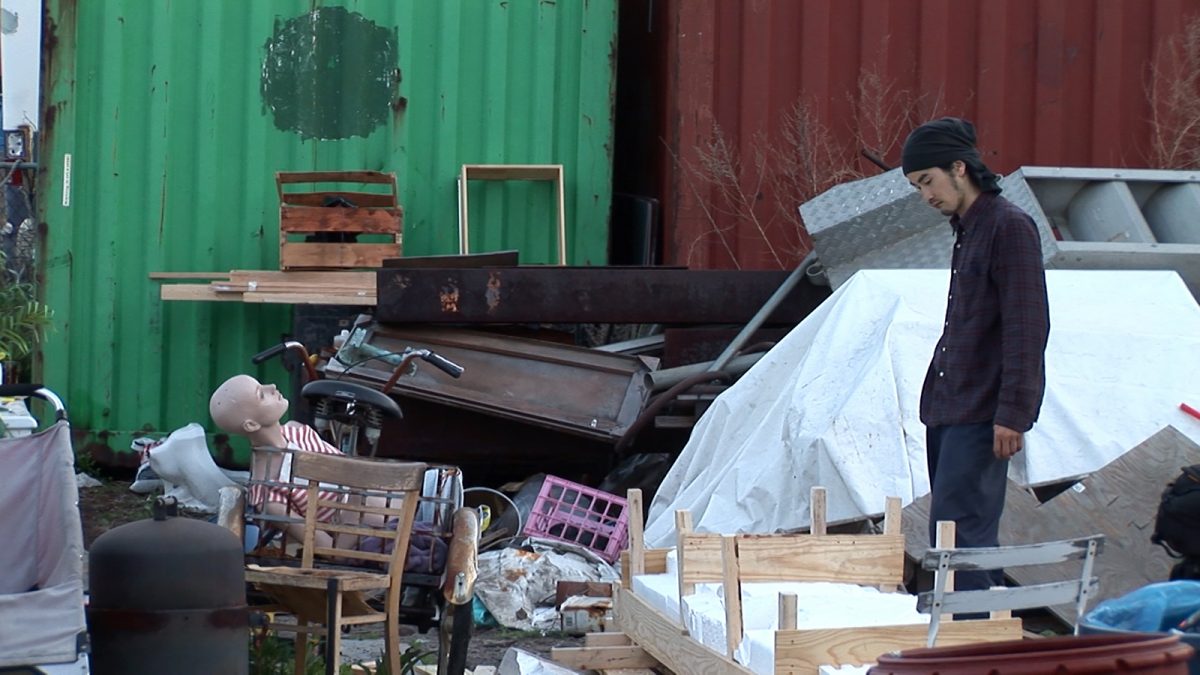 About the filmmaker:
Christina Antonakos-Wallace (Director/Producer/Camera) is a filmmaker and activist. Awards for her short films include the Euromedia Award for Culture & Diversity (2011), a Media that Matters Change Maker Award (2012), and recognition from the German Alliance for Democracy and Tolerance (2015). Her work has shown in over a dozen countries in diverse contexts from Google Headquarters, to NGOs, to film-festivals. Commissions and grants for her work include the New America Foundation, Seattle Office of Arts and Culture, and the German Ministry for Civic Education. She has held residencies at Hedgebrook (2017) and the Port Townsend Film Festival (2015). She graduated with a BFA/BA from the New School & Parsons School of Design with honors. Her work was recognized with a five-year MTV Fight For Your Rights Scholarship (2002) and a Humanity in Action Fellowship (2006), which she completed at the United Nations High Commission on Refugees, in Berlin.
From Here is a personal project that grew from questions of how to advance racial equity in an era of globalization, and the search for her own sense of belonging in the context of her family's migrations.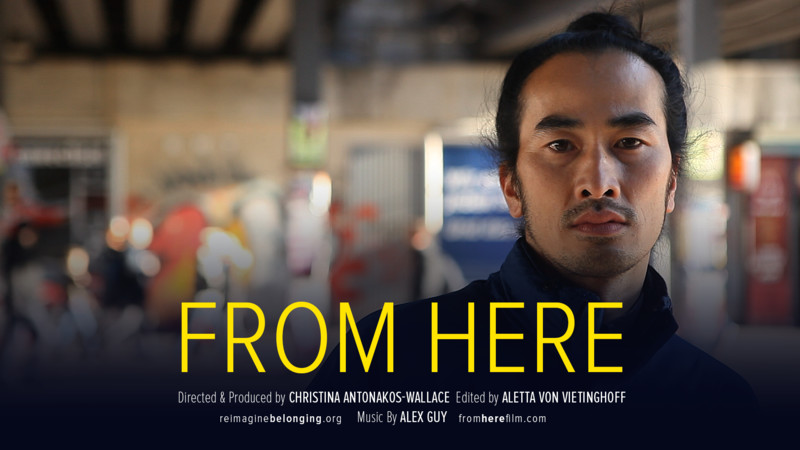 Director's statement:
The film grew out of very intimate questions. Growing up as a queer girl in the Greek-Orthodox church, I felt torn between my experience and cultural traditions. My involvement in racial justice organizing only compounded confusion that I was assimilating. I didn't find stories that celebrated adaptation or acknowledged the ambiguities.
After years of searching for belonging, including living in Greece, I began From Here. I had experienced the growing xenophobia in Europe firsthand, and was witnessing the anti-immigrant movement grow in the U.S. I knew that we needed empowering stories of migration and diaspora that broke the myths of cultural and racial purity.
It took time to develop this work. In the tradition of observational cinema, I chose to follow the protagonists long enough for them to grow and to reflect the complexity of their lives. It was essential to my ethical practice that I involve collaborators in both Germany and the U.S. who are impacted by these issues. Over the years, the initiative involved over 100 individuals–more than half from immigrant communities. In doing so, the film sprouted many offshoots. We created an interactive web platform Reimaginebelonging.org, installations, curricula, and short films. We partnered with dozens of community groups, organized or presented at nearly 200 events, and sought feedback at each major turning point. And like most young artists, we had to invent ways of getting things done with limited funding and industry support.
In this historical moment, there is no time to waste in getting From Here out into the world and deepening conversations about belonging. Violent anti-immigrant policies and racist rhetoric is intensifying. We need an avalanche of counter-narratives, including From Here, that show the promise and potential of our increasingly diverse society. Luckily, I have amazing collaborators at my side. We have experience under our belts and plans to get this film out into the world in a substantial way.
---

About Social Justice Film Festival
Join filmmakers, film lovers, and activists around the world to celebrate the mission of social justice in film for the 9th Social Justice Film Festival, screening virtually from October 1–11, 2020.
Through dozens of strategic partnerships with Pacific Northwest organizations working on issues of social justice, the Social Justice Film Festival exhibits a series of short and feature-length documentaries and narrative films broadly related to social justice, with a special focus on prisoner justice in the US. As a movement, social justice promotes a global culture where equality is achieved on all levels. This includes issues pertaining to incarceration, the environment and sustainability, oppression, race and racism, the arts, animal rights, alternative currency and lifestyles, corruption within the system, and so much more. The festival will showcase works that challenge society structures all over the globe on a macro and micro level, as well as works that challenge the medium.
The festival's mission is to forge creative alliances with diverse communities, bring inspiring filmmaking to new audiences, and make the art of filmmaking an integral part of social change.

About Goethe Pop Up Seattle
Goethe Pop Up Seattle is a temporary branch of Germany's Goethe-Institut. They host and support an international program of exhibitions, films, lectures, performances, public discussions, and more. Goethe Pop Up Seattle is partnered with NWFF to present the film series GERMAN CINEMA NOW! through November 2020.
---
Presented by Seattle's Northwest Film Forum, the 23rd Annual Local Sightings Film Festival [Online] virtually showcases creative communities from throughout the Pacific Northwest. The 2020 program, which runs from September 18-27, features a competitive selection of curated shorts and feature film programs, inviting regional artists to experiment, break, and remake popular conceptions around filmmaking and film exhibition.
Local Sightings 2020 champions emerging and established talent, supports the regional film industry, and promotes diverse media as a critical tool for public engagement. This year's festival also celebrates NWFF's 25th Anniversary as an organization.
Vote for your favorite films by 12pm PDT on Closing Day, Sep. 27; BEST FEATURE and BEST SHORT winners receive a future screening opportunity at NWFF!
---
---