Personhood [In-Person Only]
This event took place Oct 13 - Oct 16, 2021
$13 General Admission
$10 Student/Child/Senior
$7 Member
⚠️ Public safety notice ⚠️
NWFF patrons will be required to wear face coverings while in the building. To be admitted, patrons ages 12+ will also be required to present EITHER proof of COVID-19 vaccination OR a negative result from a COVID-19 test administered within the last 48 hours by an official testing facility.
NWFF is adapting to evolving recommendations to protect the public from COVID-19. Read more about their policies regarding cleaning, masks, and capacity limitations here.
Jo Ardinger
US
2019
1h 20m
** Oct. 14, filmmakers Jo Ardinger & Rosalie Miller will visit NWFF with Sara Ainsworth, J.D., Senior Legal & Policy Director at If/When/How, to discuss key points of Personhood; the state of reproductive rights in 2021, and the links between abortion restrictions and the growing criminalization of pregnant people (regardless of whether or not they plan to bring their pregnancy to term) for things like stillbirths, miscarriages, drug use, and mental illness. **
About
With the rise of the "fetal personhood" movement, comes dangerous new laws that treat pregnant women as second-class citizens. This widening web of laws encourages the surveillance, policing and criminalization of women during pregnancy. As a result, prosecutions for miscarriages, stillbirths, and using drugs while pregnant are becoming
widespread.
Personhood brings the human impact of these policies into the light through the story of a rural Wisconsin mother who was jailed after telling her doctor about her occasional pre-conception drug use. Tammy Loertscher's first-person narrative and recently unsealed court recordings provide a rare glimpse into these closed-door proceedings that have impacted thousands of American women. The film follows Tammy's story after her incarceration as she rebuilds her life and fights to overturn Wisconsin's 'Unborn Child Protection Act.' This intimate portrait of the high personal cost of the issue telescopes out toward the events being played out across America.
Key photo credit: "Tamara Loertscher cradles her infant son." Courtesy of Rosalie Miller.
"If you think The Handmaid's Tale is fiction, the chilling new independent documentary film from Jo Ardinger and producer Rosalie Miller, about the widespread detention and criminal prosecution of pregnant women in the United States, will move you to organize for a new Mayday." – Carrie N. Baker, Ms. Magazine
"In addition to exposing how fetal "personhood"—or the anti-abortion idea of legal protection for fetuses—immediately threatens the lives and well-being of pregnant people, the documentary film covers important issues concerning what the future could hold if state and federal policy continues in this trajectory. Personhood serves as a reminder that more organizing and political activism are needed to meet the challenges ahead." – Elizabeth Gay, Rewire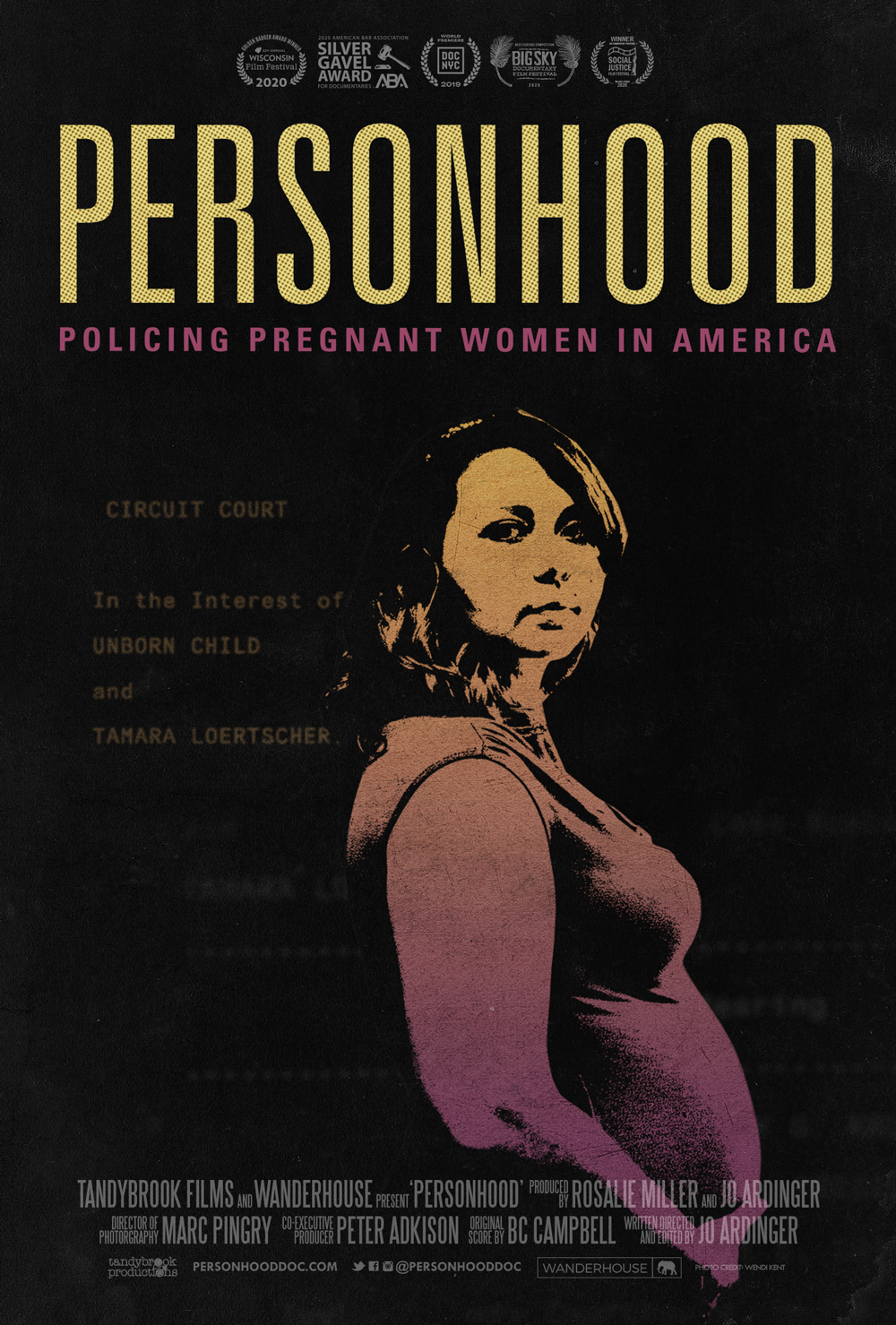 Director's statement:
I first learned of the "fetal personhood" movement in 2011 when Mississippi attempted to change its state constitution to include fertilized eggs, embryos and fetuses. The implications were both terrifying and compelling. As I went deeper into my research, it was impossible not to draw parallels to Margaret Atwood's The Handmaid's Tale. I learned about women who were arrested for having stillbirths and miscarriages. Women who'd been prosecuted for taking drugs before they knew they were pregnant. And women who were coerced into having C-sections, threatened with arrest if they did not comply. I knew I needed to tell this under-reported story that was playing out in the shadows of the divisive abortion debate.
And then I met Tammy Loertscher. Her story deeply affected me, not only because of the gross civil rights abuses she suffered as a result of her pregnancy, but because of her quiet, yet fierce nature. I saw an introverted human being willing to stand up to power, and it inspired me. I knew Tammy's story would become the heart of the film. Her first-person account of what happened to her under Wisconsin's 'Unborn Child Protection Act' allows audiences intimate and personal access to a story that defies belief in a country that prides itself on freedom and liberty.
The film explores this urgent issue from all sides including the fetal personhood movement, social justice advocates, medical professionals and legal experts. Through this collection of voices, Personhood calls for a necessary shift in dialog that looks beyond abortion and focuses on the far-reaching impacts of anti-choice efforts on women who have no intention of ending their pregnancies.
– Jo Ardinger, director/producer/editor, Personhood
Sara Ainsworth, J.D. is Senior Legal & Policy Director at If/When/How, where she supports and oversees litigation and policy advocacy. Prior to joining If/When/How, Sara was Advocacy Director at Legal Voice, a women's and LGBTQ rights organization in the Pacific Northwest. She began her career in poverty law, representing low-income survivors of domestic violence, and went on to work at both Legal Voice and National Advocates for Pregnant Women. Sara has also taught law school courses, including Reproductive Rights & Social Justice, at both the University of Washington School of Law and Seattle University Law School.
Jo Ardinger is an award winning director, editor and story consultant working on both documentary and narrative films. Her feature documentary debut, Personhood: Policing Pregnant Women in America premiered at DOC NYC in 2019 and won the American Bar Association's 2020 Silver Gavel Award for Documentaries, the Silver Prize for Best Documentary Feature (Social Justice Film Festival 2020) and the Golden Badger Award (Wisconsin Film Festival 2020). She is currently editing the feature documentary Richman Poorman: The Clinton Fearon Story. Ardinger also serves as an Advisory Board Member of the Social Justice Film Festival & Institute.
Rosalie is a filmmaker, producer, and marine naturalist (in-training). In 2013, she formed Wanderhouse Productions with her partner and began producing films independently. For the last five years, she has produced commercial and corporate content in the Seattle-area. She is currently in production on her second documentary, Worth My Salt, about queer performance artist, Jody Kuehner. The film is the recipient of a 2017 GAP Award and a 2016 4Culture Artist Award. She also serves as a producer on the feature-length documentary, Personhood: Policing Pregnant Women in America, which premiered at DOC NYC in 2019 and was awarded the American Bar Association's Silver Gavel Award for Documentaries. The film is also the winner of the Silver Prize for Best Documentary Feature (Social Justice Film Festival 2020) and the Golden Badger Award (Wisconsin Film Festival 2020). Rosalie is a member of The Whale Museum and is in the process of acquiring her marine naturalist certification. She's also an Advisory Board Member for the Social Justice Film Festival & Institute; and is a member of the Documentary Producers Alliance, Women Make Movies, and WIF Seattle.
---