Programs
SEPTEMBER 2012 - JUNE 2013
The fourth annual edition of Live at the Film Forum presents a slate of world-premiere commissioned performances that reflect film's inherent collaborative energy and experimentation.

Live at the Film Forum continues the organization's long exploration of the intersection of cinema with performance. In 2012-13, the Film Forum invites theater artists, musicians, clowns, writers and actors to engage with film and video, incorporating elements of each craft into live performances and creating work that exists both on screen and off.

We offer one-of-a-kind experiences which are fresh and, as always, a little daring! Performers in the current year include UMO Ensemble, Luc Sante and Robin Holcomb.
Individual Tickets $12/Film Forum members, $15/General

"[Live is] consistently innovative and engaging" —Zee Grega

Major support for the 2012-2013 season of Live at the Film Forum has been provided by the National Endowment for the Arts, the Paul G. Allen Family Foundation, ArtsFund, 4Culture, the Seattle Office of Arts & Cultural Affairs, the Seattle Foundation, ArtsWA and The Stranger.
Previous Season: September 2011 - May 2012

2012-2013 PROGRAM

An core part of Northwest Film Forum's mission is to discover and champion the work of visionary filmmakers: join us as we bring an array of film artists and arts professionals to speak in person about new film, both on and off our screens.

Want to talk movies with other film lovers? Join us for our monthly, free Framing Pictures critics' talk.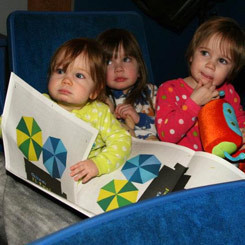 2012-2013 PROGRAM

The Film Forum offers year-round programming to delight and dazzle family audiences. Quarterly film screenings include award-winning features and shorts, historically important children's films, director retrospectives, documentaries from around the globe, interdisciplinary programs (including performances of new scores for classic silent films) and exciting hands-on workshops for young filmgoers and filmmakers.

>> Sign up for our emails about upcoming programs for families

2012-2013 PROGRAM

If you love some music with your movies, mark your calendar for these upcoming screenings where the soundtrack is a character of its own. Films range from rare concert footage to forgotten musical features and tributes to iconic talents. Keep an eye out for special live music performances on our regular screening calendar.
2012-2013 PROGRAM

Northwest Film Forum supports a sustainable Seattle! We encourage all movie-goers to carpool, take the bus, walk, bike, PoGo stick, or find their own eco-friendly way of getting to our cinemas. We present several events each quarter with localism and sustainability in mind.