Travessias Brazilian Film Festival 2022 [Hybrid]
---
May 19–22 [In-Person] / May 19–29 [Online]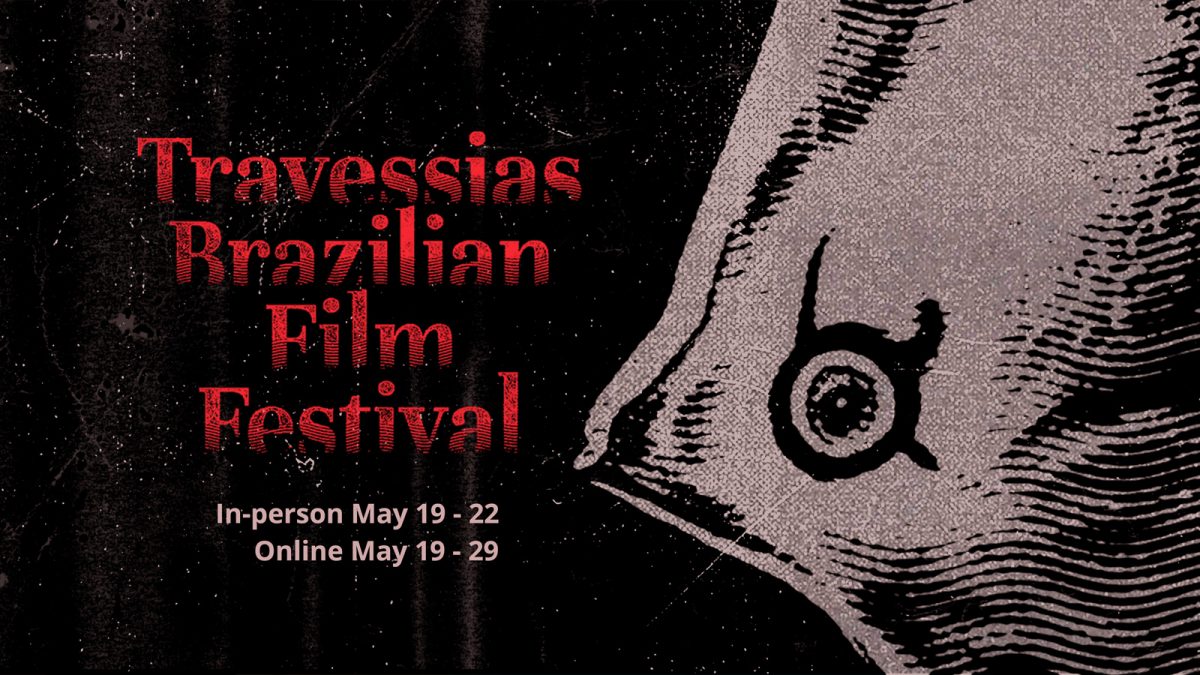 ---
Curator's statement: Cinema, presente!
The present is disputed territory. Every arena of Brazilian society – the social, political, economic and environmental – is being unsettled, disrupted and upended. The films featured in this third edition of Travessias represent a response to this scenario in the form of a dream. Dream, here, represents not escape but rather resistance; a creative power churning memories and fantasies in service of a world yet to be born.
The dreams take many shapes, individual and collective, such as the Maxakali struggles for survival – in the face of racist terrorism – documented in Nũhũ Yãgmũ Yõg Hãm: This Land is Ours! In an Island in Bahia, a young Black man asserts his right to narrate and film his own story while Black communities in Rio de Janeiro counter scarcity through the abundance of their potlucks and social gatherings. Girls who determine Their Happiness by choosing to love one another and not be intimidated by police violence, whilst young people challenge conventions in search of a better future in Sun Inside. Against the backdrop of real estate speculation, love is forged in Ceará's My Own Private Hell. On the shores of Lake Paranoá, in Hive, an ex-convict attempts to predict the future of humanity, meanwhile a resident of Sao Paulo calls for democracy in the Republic called Brazil.
Given the state of contemporary Brazil (and much of the world), these dreams offer viewers a welcome ballast for our turbulent present.
– Travessias Team
O presente é um território em disputa. Também no Brasil, onde o atual cenário de interrupção de projetos afeta o campo social, político, a economia e o meio ambiente. Contra a corrente, os filmes reunidos na terceira edição do festival Travessias se concentram na ideia de sonho. Sonho, aqui, aparece não como escape, mas como resistência, potência criadora, propulsora de velhas, novas e aguerridas memórias. Nos deparamos ora com sonhos individuais, ora com sonhos coletivos, como a luta do povo indígena Maxakali para preservar sua cultura ancestral em Nũhũ Yãgmũ Yõg Hãm: Essa Terra É Nossa!
Em uma Ilha na Bahia, um jovem negro reivindica o direito de narrar e filmar sua própria história, enquanto comunidades pretas cariocas rejeitam a escassez e resistem através da Fartura de suas mesas e encontros. Meninas que se amam e não se intimidam com a violência policial desenham A Felicidade Delas, enquanto jovens com poucos recursos derrubam fronteiras por um futuro que faça sentido em Um Filme de Verão. Contra a especulação imobiliária, constrói-se o amor em um pedaço de céu no Inferninho cearense. À beira do lago Paranoá, em Colmeia, uma ex-presidiária tenta prever o futuro da humanidade, enquanto uma moradora do centro de São Paulo convoca a democracia nessa República chamada Brasil. Sonho, presente!
---
---
(in-person May 20 at 7:30pm & May 22 at 5pm | online May 19–29)
Colmeia
In Colmeia, a woman recently released from prison tells her story for the first time. Having christened herself Huri, she recounts how she faced judgment from neighbors and family members for defending herself from sexual assault. Set against a deceptively tranquil backdrop of lapping waves, Colmeia is intimate and poetic, enlivened with Huri's interpretations of tarot and dreams.
(Maurício Chades, Brazil, 2021, 15 min, in Portuguese with English subtitles)
The White Death of the Black Wizard (A morte branca do feiticeiro negro)
Memories of Brazil's history of slavery overflow into ethereal landscapes and harrowing noises. Through a poetic visual essay, an intimate sensory journey reflects on the silencing and erasure of Black people in the African diaspora.
Awarded 2020 Best Short Film by Brazilian Film Critics Association.
(Rodrigo Ribeiro, Brazil, 2020, 10 min, in Portuguese with English subtitles)
Apiyemiyekî?
Apiyemiyekî? explores Brazilian educator Egydio Schwade's ambitious efforts to record the memories of the Waimiri-Atroari, a tribe native to the Amazon who suffered acutely under Brazil's military dictatorship from 1964-1985. In the 1970's, the government appropriated their land to build the BR-174 highway while subjecting the tribe to chemical weapons and deadly exogenous diseases. Apiyemiyeki tells this history non-linearly, to haunting and hypnotic effect. The film pulls from Schwade's corpus of over 3,000 drawings made by Waimari-Atroari, later used as forensic evidence of genocide in a governmental truth commission. Inspired by the pioneering educator Paulo Freire, Schwade emphasized the Waimari-Atroari's "sovereignty" as learners while teaching them written language at their urging. Through stylistic innovations, Apiyemiyekî? conjures an atmosphere of dread amid unearthed memories. In superimposing the tribe's drawings onto unstable black-and-white landscapes, set to a dissonant score, Apiyemiyekî? captures the fractured nature of traumatic memories.
(Ana Vaz, Brazil, 2020,  29 min,  in Portuguese with English subtitles)
Fartura
From domestic images, food reveals a way of living in community.
(Yasmin Thainá, Brazil, 2019, 27 min, in Portuguese with English subtitles)
(in-person May 21 & 22 at 7:30pm | online May 19–29)
Republic (República)
Shot in the early months of the pandemic, República portrays a country on the brink of collapse amid the claustrophobia of quarantine. In the República neighborhood of São Paulo, a woman contends with yelping dogs, menacing strangers, and her own mounting delirium. Moments of dark humor abound as she slowly realizes that "Brazil is a dream."
(Grace Passô, Brazil, 2020, 16 min, in Portuguese with English subtitles)
Their Happiness (A felicidade delas)
The electrifying Women's March takes a turn when police officers surround the protesters. In the resulting chaos, two girls must traverse alleyways and sneak into abandoned buildings while fleeing the cops. But moments of shared solace in the dark build to an astonishing intimacy between them.
(Carol Rodrigues, Brazil, 2019, 14 min, in Portuguese with English subtitles)

Pattaki
In this meditative visual poem inspired by the work of Virgilio Piñera, a seaside community used to drudgery and toil is visited by Yemaya, a charismatic sea goddess. Pattaki utilizes primordial symbolism of the water, sky, and moon to create an eerie and mystical atmosphere. Moments of prayer and ritual, solace and ecstasy, build to a startling climax.
(Everlane Moraes, Brazil, 2019, 21 min, nonverbal)
Swinguerra
Swinguerra focuses on disadvantaged queer communities of color in Recife, Brazil, with an emphasis on transgender and nonbinary performers. The film features three contemporary dance styles—swingueira, brega funk, and passinho da maloca—as performed by three competitive dance groups. These mixed dance styles recall Brazil's colonial and slave trade history, where music and dance functioned as discreet methods of organizing politically under oppressive regimes. Fast-paced, athletic, sexy, dreamlike, and aggressive, the dance styles, like the music, make Swinguerra an exhilarating and unforgettable viewing experience, illustrating how dance and music offer rich sources of agency, resistance, and community for marginalized individuals.
In the sports court of a school, dancers rehearse under the watchful eye of a choreographer. Tensions haunt personal desires as they are observed by a rival troupe.
(Bárbara Wagner & Benjamin de Burca, Brazil, 2019, 23 min, in Portuguese with English subtitles)
---
(in-person May 20 at 7pm & May 21 at 5pm | online May 19–29)
(Ary Rosa & Glenda Nicácio, Brazil, 2018, 96 min, in Portuguese with English subtitles)
In the meta thriller Island, a drug dealer named Emerson kidnaps Henrique, an esteemed director, and brings him to a secluded island. Emerson demands Henrique's help in crafting his magnum opus, a film meant to erase the lines between fiction and reality. Over the course of auditions and rehearsals, all with local townspeople, Emerson pushes the boundaries of "organic" cinema, sometimes with dangerous consequences. Mining dark humor out of Emerson's grandiosity, Island is a wild ride through the currents of artistic obsession.
(in-person May 21 at 4:30pm | online May 19–29)
(Isael Maxakali, Sueli Maxakali, Carolina Canguçu & Roberto Romero, Brazil, 2020, 70 min, in Portuguese with English subtitles)
This Land is Our Land! is a powerful and urgent profile of the Maxakali or Tikmu'un, a Brazilian indigenous group struggling with the impacts of deforestation and white vigilante violence. Threaded through with folklore and ancient wisdom, the film implores the viewer to remember that "The earth is our kin!"
Its Tikmu'un subjects wander through a landscape transformed by agriculture: trees replaced with cattle feed, ponds no longer hospitable to fish, roads overtaken by native plants, and fields cordoned off with barbed wire. Even the limits of their reserve have been encroached upon in recent years. As they walk familiar, primordial paths, they pray that the land will one day belong to them and the yãmĩyxop spirits once again.
Animated by raw anger and resentment, they also decry a double standard where murders against Tikmu'un go unpunished while they are over-penalized for petty crimes. Tense interactions with hostile white strangers are evidence of pervasive prejudice. But as This Land is Our Land! powerfully demonstrates, the Maxakali remain defiant in the face of colonization, determined to tell their stories. They will continue to chant in unison, "This land is our land!"
(in-person May 21 at 7pm & May 22 at 4:30pm | online May 19–29)
(Jo Serfaty, Brazil, 2019, 94 min, in Portuguese with English subtitles)
Sun Inside tells the interlinked stories of four Brazilian teens living in the slums of Rio de Janeiro as they graduate into an uncertain future. The good-natured Junior films everything around him on his shaky hand-held camera. His sarcastic best friend Karol fantasizes about living in Japan while fruitlessly job-hunting. Their friends Caio and Ronaldo struggle to define their Yoruba-Christian faith and sexuality, respectively. In a landscape of dilapidated housing and skies crowded with power lines, they learn to make their own fun. Yet the turmoil of power outages, water shortages, and teacher strikes is always threatening to encroach.
Sun Inside captures the energy of languid afternoons at the beach and intoxicating nights at underground concerts. In tracing the currents of exhilaration and boredom, self-discovery and self-doubt, the film poignantly explores what it means to be on the cusp of adulthood.
(in-person May 22 at 7pm | online May 19–29)
(Guto Parente & Pedro Diógenes, Brazil, 2018, 82 min, in Portuguese with English subtitles)
Inferninho takes place entirely in a dimly-lit bar populated by an eccentric array of drunks, artists, and wanderers of various kinds. The arrival of a sensitive sailor named Jarbas shakes up the bar's glamorous owner, Deusimar. Bound by a shared wit, the two quickly fall into an intense love affair. But problems pile up for the couple when Jarbas' debt collectors come calling and a menacing salesman tries to buy Deusimar's property. With a campy aesthetic and imaginative fantasy sequences, Inferninho explores the clash between pragmatism and the desire for self-reinvention.
---
Travessias 2022 Curators' Bios
Emanuella Rodrigues de Moraes
she/her/hers
Emanuella Rodrigues de Moraes has experience as a researcher, university lecturer and curator in Brazil. She received her PhD in Culture and Society at the Federal University of Bahia. She also was a post-doctoral research fellow at the University of Washington, Seattle, supervised by Professor Jonathan Warren, having studied Contemporary Brazilian Cinema, Gender and Race.
Livia Azevedo Lima
she/her/hers
Livia Azevedo Lima is a book editor, writer and researcher on the verge of finishing a PhD on Brazilian Modern Cinema and Literature at the University of São Paulo. She was born in Rio de Janeiro, lived in São Paulo for the past decade and is currently based in Seattle.
Calac Nogueira
he/him/his
Calac Nogueira is a Brazilian film critic, researcher, curator and filmmaker based in Seattle. He is currently a PhD student at the University of Washington. In 2020, he programmed in Brazil the retrospective Lumière cineasta, in which the Lumière views were presented along with films from a variety of other directors, countries, and times.
---
About the Co-presenting Orgs

Black Cinema Collective
Black Cinema Collective (BCC) is comprised of a group of multicultural artists and scholars who examine and celebrate works of African and African diasporic filmmakers through programmed screenings and community discussions. With a Black global lens, we consider intersectional histories and topical stories by supporting multiple forms of filmmaking from local and global artists, activists, documentarians, and organizers. We have partnered with organizations in Seattle such as Wa Na Wari, Langston Seattle, Three Dollar Bill Cinema, Henry Art Gallery to offer screenings and artist talks that examine stories of belonging and immigration, historical sites of erasure, multilinguistic communications, multicultural Black identity, and radical imaginaries within contemporary art, music, and poetry practices. BCC has received grants from organizations including the Simpson Center, 4Culture, and Seattle Foundation. It is currently a project of i·ma·gine | e·volve and is fiscally sponsored by Northwest Film Forum. Through our focused events on Black film and visual productions, we exercise agency and care as custodians and students of a broader spectrum of Afro-Diasporic cultures.
---